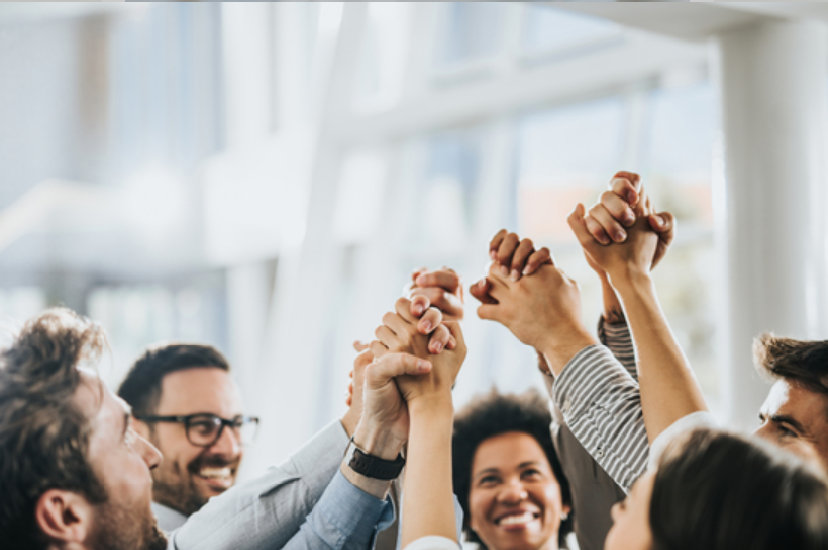 As an organization, we are defined by our higher purpose of creating greater well-being and ensuring sustainable development for people, organizations and society alike. Grupo SURA´s commitment to Human Rights goes throughout our value chain
In Grupo SURA, we are committed to respect Human Rights throughout our value chain. This implies complying with the guidelines of the Universal Declaration of Human Rights, the Guiding Principles on Businesses and Human Rights of the United Nations and those established in the relative Declaration to the fundamental principles and rights at work of the International Labor Organization (ILO).
We seek solid relationships, with all our stakeholders, based on respect and mutual recognition, generating trust, and value, for all parties involved, through our operation. Therefore, we actively promote the respect of fundamental rights and avoid impacts, directly and indirectly caused.
We know that for our growth to be sustainable, it is necessary to: know the human rights risks related to our operations to identify the impacts that we generate and define measures to mitigate them (see Management Cycle).
Therefore, during the last years, we have focused on developing methodologies seeking to determine the exposure to risk in Human Rights, of our Companies, as well as identified and defining the necessary controls to prevent the occurrence of related events or reduce their impact, in case of occurrence. We have done this as a Business Group from five foci of action: as employer, provider of diversified services, active buyer of goods and services, investor and social actor.
HUMAN RIGHTS MANAGEMENT CYCLE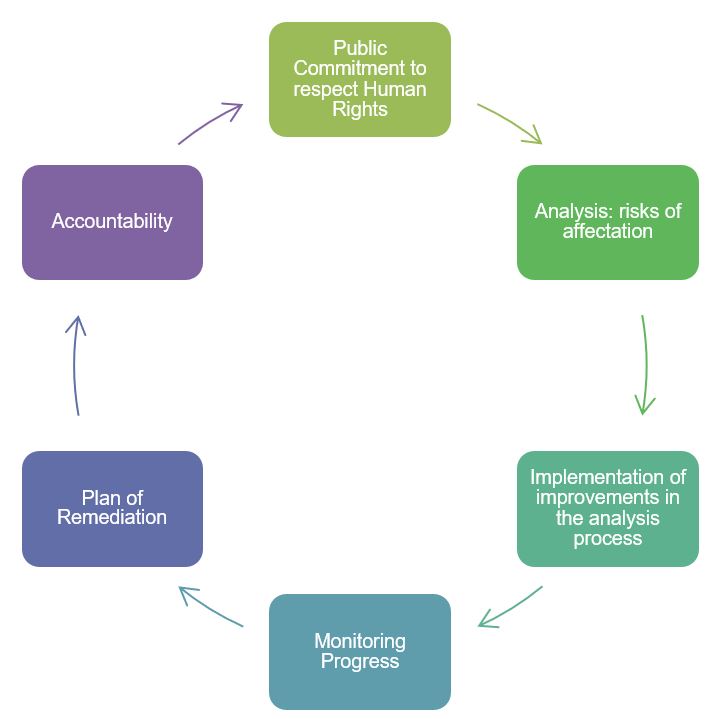 We analyzed the Company's risk exposure in 2017, which implied selecting the rights with the greatest affinity with our sector. The International Declaration of Rights, the International Covenant on Economic, Social and Cultural Rights, the International Covenant on Civil and Political Rights and the ILO Declaration of Human Rights were taken as reference. The result of this analysis is an evaluation of stakeholders that could be violated in one of their fundamental rights.
IDENTIFIED THREATS
Risk of neglect and / or lack of health services.
Risk of being exposed to unsafe conditions that can endanger the integrity and even life.
Discriminatory risk in hiring processes and business relationships.
Risk of impose religious and political practices and repressing those who do not profess it.
Misuse of confidentiality policies.
Risk of not being consistent with employee and suppliers hiring models and not being consistent with the Company's statement.
Risk of having infrastructure limitations in the facilities for employees with reduced mobility.
Risk of not having an occupational health and safety system for employees and suppliers.
Risk of hiring under-age labor directly or through suppliers.
Risk of establishing business relationships with suppliers who subject their employees to forced labor.
Risk and subject employees to forced labor.
Risk for issues related to inequality and equal opportunities.
Risk for not guaranteeing the affiliation of employees and suppliers to Social Security affiliation and coverage.
Risk associated with freedom of association.
Risks associated with lack of health and well- being activities and benefit incentives
Risks associated with lack of development and training incentives
Risk of poor waste management
Risk of not publish the annual results derived from the business activity.
Among others…
RISK LEVEL
The risk exposure levels defined were as follows:
REMEDIATION PLAN
Once the assessment has been carried out on Human Rights risks in each of the companies, if necessary, remediation plans will be defined, and/or controls to be implemented to strengthen the companies actions in the event of a situation that may give rise to breaches of human rights among the assessed interest groups.
Some of this remediation plan defined were:
Audits/reports/performance agreements/differential payment plans
Financial statement/health superintendence reports/thoughts about impact on public dynamics/development of practices
Health the superintendence follow up on denials/report of denials to the constitutional court/actions for protection of fundamental rights /people's Defendant report/Economic regulation
Legal compliance
Audits to customer service processes
Regular audits to access profiles/contract termination due to bad practices and unauthorized access to information/education about the use of information/information security policy
Ethics line/claims and complaints system/users' Association
Audits/reports/performance agreements/claims and complaints
Among others.
STAKEHOLDERS ANALYZED
Community
Employees
providers
Users/clients
Suppliers
State