SURA allocated more than COP 1.4 trillion (USD 379 million) during this past year, this in order to address the pandemic on all fronts, placing special priority on saving lives and assisting both people and companies.
The health care services provided in Colombia are also worth special mention since the death rate among Seguros SURA's COVID patients came to just 0.63%, which was a quarter of that recorded nationwide (2.63%) and a third of the world average (2.18%), at the end of 2020.
Grupo SURA's subsidiaries have managed to both preserve existing jobs and create new ones (+4.3% compared to 2019) while helping to drive Micro and SMEs throughout the region and adapting their operating models so as to remain closer to their clients.
The financial results thus obtained reflect the positive levels of business performance on the part of our subsidiaries, having scored year-on-year growths in their premium and commission income, in spite of the effects of the pandemic.
Grupo SURA managed to (i) reduce its net debt and foreign exchange exposure; (ii) secure the liquidity required to meet its upcoming financial obligations in 2021; and (iii) improve its debt profile in the medium-term.
Social investment totaled COP 91,136 million (USD 24.7 million) in 2020, both on the part of our Companies as well as through the SURA Foundation in Colombia, Mexico and Chile.
The Company's Board of Directors proposed a dividend payment of USD 0.18 per share, which is 3.5% higher than that paid out last year, this to be submitted for the consideration of the General Assembly of Shareholders at their Annual Meeting to be held next March 26.



During this past year, Grupo SURA and its subsidiaries, Suramericana and SURA Asset Management, amply demonstrated the relevance of their strategies and the importance of the industries in which they are present, in being able create added value in helping each of our 37.5 million clients in all 10 countries in Latin America where we are present, who have placed their trust in SURA as their firm ally during the pandemic and now in the face of this year's ongoing economic recovery.

Proof of this has been our overarching priority of caring for and saving lives with the health care services we provide in Colombia, where COVID patients attended to by SURA have experienced a comparatively lower death rate. Other highlights include the initiatives deployed for financing and providing specialized skills to micro-, small- and medium-sized companies; the preservation of jobs in all our subsidiaries as well as creating extra jobs where necessary; nearly COP 1.4 trillion (USD 379 million) allocated by Suramericana's subsidiaries to the expense and costs incurred in caring for its policy-holders and affiliates; as well as the quick responses to requests received from 3.2 million fund members for withdrawing part of their pension savings to meet their needs in the face of COVID-19 crisis, as permitted by the regulatory changes introduced in Peru and Chile.

"Over this past year, we have really appreciated the important role that SURA's different lines of business play in contributing to the well-being of our people and the competitiveness of our Latin American companies. Also, the financial results obtained at year-end 2020 showed a marked degree of resilience, being much better than those originally forecast at the beginning of the pandemic, with positive income figures for both Suramericana and SURA Asset Management, while Grupo SURA continues to reap the benefits of a well- balanced portfolio," stated Gonzalo Perez, Chief Executive Officer of Grupo SURA.

Relevant Highlights Over the Last Year

The Companies that make up the SURA Business Group not only managed to preserve existing jobs since the pandemic first began, but also increased its headcount for a total of 31,580 employees, which is 4.3% more than for 2019. The Company's social investment also rose last year to a total of COP 91,136 million (USD 24.7 million), both directly on the part of our Companies as well as through the SURA Foundation in Colombia, Mexico and Chile, this largely aimed at sensitive sectors such as health care, education and culture.

For example, the Suramericana subsidiaries provided their support to more than 100 thousand Micro and SMEs in nine countries throughout the region, this in the form of (i) specialized knowledge disseminated via the Empresas SURA (Sura Enterprise) regional platform; (ii) new solutions in the Life and Property and Casualty insurance segments; and (iii) an expanded coverage and client care function for its portfolio of insurance solutions. Suramericana's Mandatory Health Care subsidiary in Colombia expanded its telemedicine capabilities, providing more than 19.5 million health care services during the pandemic, thereby ensuring a substantially lower death rate of just 0.63% among infected patients, which was a quarter of that recorded nationwide (2.63%) and a third of the world average (2.18%), at the end of 2020.

As for SURA Asset Management, this subsidiary recorded positive returns on its managed funds, which, although proved lower than for 2019, is still a welcome piece of news for its 20.3 million clients in what was after all a complex and volatile market environment. Furthermore, the procedure for our clients to withdraw their severance payments was expedited and made more flexible in Colombia, the same applied to those claiming unemployment insurance in Chile and Mexico, this so as to help those who lost their jobs due to the pandemic. Various types of financing funds were also made available, thereby providing liquidity to 1,282 small and medium-size companies in Colombia, Peru and Chile. In addition, SURA Investment Management launched several investment funds to drive both the economic recovery and job creation in sectors such as infrastructure.

For its part, Grupo SURA has been conducting stress tests since April 2020 in view of the possible impacts that the pandemic could have on different fronts such as the liquidity and solvency situation of our core subsidiaries, which did not require any additional capitalization at year-end. These analyses allowed us to take early preventive measures which was why we placed an issue of bonds to ensure sufficient liquidity in 2021 in order to attend our upcoming financial obligations and reduce and improve our debt profile as well as our borrowing costs. Also, in 2020, Grupo SURA was able to reduce its net debt by COP 138,933 million pesos and lower its dollar-denominated exposure from 10% to 4%.

Consolidated Results - 2020

"Thanks to the ability of our subsidiaries to adapt, maintain their pace of business performance as well as increase client loyalty, together with the benefits of Grupo SURA's well-diversified portfolio, we were able to partially offset the impact of the volatility prevailing on the capital markets on the subsidiaries' own investment performance as well as the drop in revenues received from associates via the equity method, especially from Bancolombia," explained Ricardo Jaramillo, Chief Business Development and Finance Officer for Grupo SURA.

Consequently, Grupo SURA's consolidated results recorded operating revenues of COP 20.8 trillion (USD 5,642 million*), which was 2.3% lower than for 2019, while costs and expenses showed a controlled growth (4.3%), based on greater efficiencies secured by the operating models of our subsidiaries. Thus, operating income totaled COP 1.6 trillion (USD 435 million) for a drop of 44.2%, while consolidated net income came to COP 336,237 million (USD 91 million), that is to say, 80.4% lower than for the previous year. As for the results obtained by each of our core subsidiaries:

SURA Asset Management (an expert player in the pension, savings and investment as well as the asset management industries), recorded a year-on-year growth in fee and commission income of 2%, thanks to the stable streams of revenues sourced from the Retirement Savings segment as well as a combined growth of 19.2% in fee and commission income from Inversiones SURA (savings and investments for private individuals) and SURA Investment Management (asset management services). Net income at year-end came to COP 431.381 million (USD 116.8 million) for a decline of 39.1%. Assets under Management increased by 8.4% for a total of COP 523.9 trillion (USD 152,622 million**).

Suramericana (a specialized player in the insurance and trend & risk management industries) obtained a 9.6% growth in its written premium income, which totaled COP 18.7 trillion (USD 5,063 million), driven by its efforts to build loyalty among both its private individuals and corporate clients, as well as having diversified its portfolio of solutions, in keeping with the current situation with the Life, Health Care, Mobility and Digital Protection insurance solutions. The generally good levels of performance throughout the region with regard to Property and Casualty insurance, especially in Argentina, Chile and Colombia, largely offset higher claims for the Life Insurance segment as well as higher health care expense incurred with the pandemic. Consequently, year-end net income came to COP 211.431 million (USD 57.2 million) for a year-on-year decline of 45.8%.

Proposed Shareholder Dividend Payment

On the other hand, the Board of Directors at a meeting held on February 25, approved a proposal for an ordinary dividend payment of USD 0.18 per share on a total of 469,037,260 common shares and 112,940,288 preferred shares, this to be paid in four equal installments in April, July and October 2021, as well as January 2022. This represents an increase of 3.5% compared to the ordinary dividend payment paid out in 2020 and shall be submitted for the consideration of the shareholders at their upcoming Annual Ordinary Meeting to be held on March 26. This year's Annual Ordinary Meeting shall be held in the same non-presential manner as last year's, that is to say, shareholders shall be represented by their delegated proxies and shall be able to follow this event as it is live-streamed on Grupo SURA's website:gruposura.com.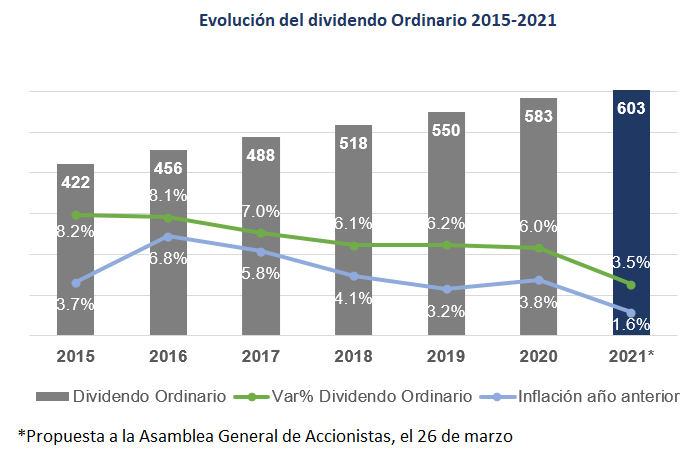 Other Recent Highlights:
The ratings agency, awarded an "AAA" rating to Grupo SURA's long-and short-term debt as issued on the local market, this being the highest rating issued on a domestic level. Fitch Ratings also confirmed the Group's "BBB" long-term international rating while lowering its outlook from stable to negative.
The SURA Foundation in Colombia benefited more than 280 thousand individuals and 2,500 organizations in 2020, thanks to a social investment totaling COP 26,064 million (USD 7 million).
Standard & Poor's awarded Grupo SURA its silver medal, upon including the Group in its 2021 Sustainability Yearbook, in keeping with our being included yet again in the Dow Jones Sustainability World Index (DJSI).
Grupo SURA was recognized by the International Chamber of Commerce and the European Startup Commission as an "Open Innovation Leader" in Latin America for its support to the entrepreneurial ecosystem throughout the region.
*Figures taken from the Statement of Comprehensive Income, based on the average exchange rate for 2020: COP 3,693.09
* *Figures taken from the Statement of Financial Position based on the exchange rate corresponding to year-end 2020: COP 3,432.50