This final result was driven by record revenues of COP 31.4 trillion, boosted by the recovery of Suramericana, the resilience of SURA Asset Management and the positive performance of Grupo Bancolombia, Grupo Nutresa and Grupo Argos.
During this past year, the Company made headway towards greater levels of sustainable profitability through a well- balanced management of its financial, social, human and natural capital.
A dividend of COP 1,280 per share, that is to say 63% higher than for last year, is to be proposed by the Board of Directors to the General Assembly of Shareholders at their upcoming meeting to be held on March 31.
Medellín. February 28, 2023 On Tuesday, Grupo SURA reported to the market its consolidated financial results at year-end 2022. Special mention was made of the Company's controlling net income which increased 47%* year-on-year to COP 2.1 trillion (USD 488 million**), which exceeded the projected growth of between 10% and 15%, as announced to the market at the beginning of the year.
This final result reflects the growth in premiums and profitability posted by Suramericana; the resilience shown by SURA Asset Management in what was a challenging year for the capital markets; the efforts made by both subsidiaries with regard to expense controls and efficiencies; as well as increased revenues received by Grupo SURA via the equity method from Grupo Bancolombia, Grupo Nutresa and Grupo Argos.
Likewise, the Company recorded an all-time high in operating revenues of COP 31.4 trillion (USD 7,367 million), for an increase of 26%, that is to say COP 6.5 trillion more compared to the previous year´s figure. Consequently, revenues have registered a compound annual growth of 15.6% over the last 7 years, compared to the COP 11.4 trillion posted in 2015.
"The trust that Latin Americans have placed in the SURA products, solutions and services, as well as the validity of our long-term strategy, in which results are just as important as the manner in which these are achieved, are allowing us to continue advancing towards greater levels of sustainable profitability. This is why we are again pledging our commitment to create value for all our shareholders and help drive a more harmonious level of development for both Colombia and the rest of the region," stated Gonzalo Pérez, CEO of Grupo SURA.
In the light of the above, Grupo SURA closed with a return on equity (adjusted ROE) of 9.9%, compared to 7.9% the previous year, and higher than that budgeted at the beginning of the year. The Company also improved its leverage indicator having reduced its net debt to dividends received from its investments from a multiple of 6.6 times to 3.9 times, thereby making strides with the Company's deleveraging process.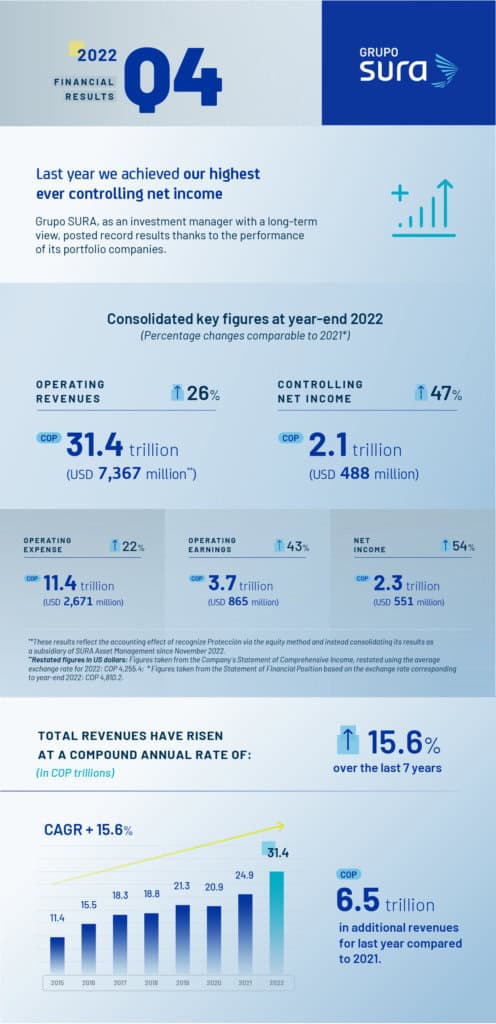 "In spite of a more challenging regional and global environment, the portfolio's five strategic investments showed good levels of performance in 2022. This provides us with a very positive outlook for Grupo SURA's expected cash flow for 2023 thereby allowing us to improve our debt indicators, as part of this gradual deleveraging process," concluded Ricardo Jaramillo, Grupo SURA's Chief Business Development and Finance Officer.

It is also worth noting that Grupo SURA's Shareholders´ Equity ended the year at COP 33.7 trillion (USD 7,012 million), for an increase of 21% compared to 2021, this driven by the sound results posted by our subsidiaries and associates pertaining to the Company's portfolio.
Integrated capital management
In 2022, the Company strengthened the balanced management of its financial, social, human and natural capital through initiatives that are generating added value for our stakeholders as well as society in general, such as:
Social capital: The social impact investment on the part of the Companies making up the SURA Business Group and through the SURA Foundation in Colombia, Chile and Mexico helped in various ways to enhance the lives of nearly 21.7 million people and further the sustainability of 2,508 entities, mainly social, educational and cultural throughout Latin America.
Human capital: The SURA Foundation contributed to the education and training of more than 24 thousand people in Colombia, Mexico and Chile, including children, teachers and other educational agents, holders of higher education scholarships, cultural promoters and artists. Grupo SURA provided its support to the training of more than 32 thousand Colombians in order to reduce their vulnerability to misinformation.
Natural capital Progress was made with measuring the financed carbon footprint on the part of Grupo SURA, Suramericana and SURA Asset Management, and with designing an approach for quantifying prioritized climate risks and potential effects on the portfolio's lines of businesses.
Financial capital The Company strengthened the tool we call our Aggregate Portfolio Overview, which allows us to evaluate and monitor our companies by applying a more comprehensive understanding of their sustainability, industry environment as well as risks and opportunities.
The social and financial capitals also involved the Company's Ethics and Corporate Governance System, where the work was quite demanding in 2022, in response to the tender offers for Grupo SURA shares or those of its portfolio companies, this in order to preserve the interests of both the Company as well as one hundred percent those of its shareholders.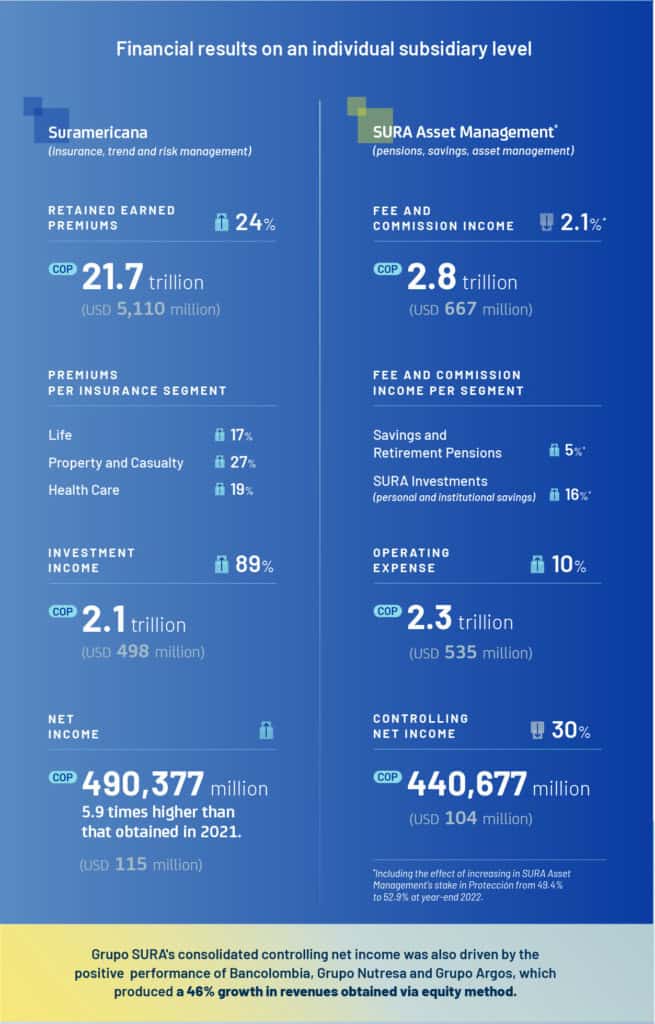 Financial results on an individual subsidiary level
Suramericana: 2022 was a year of recovery after sustaining two years of impacts due to the pandemic with net income closing at COP 490,377 million (USD 115 million), thereby exceeding the initially budgeted figure. This was driven by a YoY increase of 24% in its retained earned premiums (COP 21.7 trillion), with growths in the Property and Casualty (27%), Life (17%) and Health Care (19%) insurance segments, as well as the increase in investment income from inflation-indexed assets, together with expense controls that partially mitigated the increase in claims, particularly in the Car and Health Care segments, which began to stabilize towards the end of the year.
"At Suramericana, we were focused throughout 2022 on getting back on the path of profitability towards achieving a return above the cost of capital. We are also making progress in maturing our operating model and in attracting and retaining clients, who now total more than 22.3 million in the 9 countries where we operate. This was also a year in which we took important steps with our contribution to social and planetary health", explained Juana Francisca Llano, CEO of Suramericana.
SURA Asset Management This subsidiary´s results for 2022 remained resilient in what was difficult year for capital markets and a more challenging macroeconomic environment. Consequently, a controlling net income of COP 440,667 million (104 million) was posted at year-end, this driven by the recovery of the Company´s investment income (from its legal reserves) for the fourth quarter, but was still 30%* lower than for 2021. This included fee and commission income standing at COP 2.8 trillion (USD 667 million), for a slight decline of 4%* with Retirement Savings (Pensions) and a 7%* increase with SURA Investments (savings for private individuals and the institutional segment).
"Over this past year, we made efforts, through our operating efficiencies, expense reductions and capitalizing on the positive performance of the region's labor markets, to mitigate diverse effects such as lower yields on the financial markets and the regulatory cuts to the fees and commissions charged in Mexico. In this way, we managed to reach almost 23 million clients for whom we manage USD 140 billion thereby helping them to improve their financial wellbeing and attain their financial goals," stated Ignacio Calle, CEO of SURA Asset Management.
Other recent highlights:
Fitch Ratings ratified the Company´s long-term local ("AAA") and international ("BB+") ratings, both carrying a stable outlook, this based on our sound investment portfolio and expectations of increased dividends as well as lower leverage.
Grupo SURA was included in the Dow Jones Sustainability Global Index (DJSI) as the 6th best rated company from the Diversified Financial Services industry. We also joined 708 other companies included in the S&P Sustainability Yearbook 2023
Grupo SURA has been admitted, for the first time, to the Bloomberg Gender Equality Index (GEI-2023) for its efforts in promoting equality and diversity. It is now one of the 484 companies included in this benchmark index for human talent management.
Proposed Dividend for 2023
On February 28, Grupo SURA's Board of Directors approved presenting a proposal at the upcoming Annual Ordinary Shareholders' Meeting, to be held on March 31, for a dividend payment of COP  XXXX per share. This represents a growth of  XX% compared to that paid out in 2022. This proposal contemplates a total distribution of COP XXX,XXX million on 579,228,875 outstanding common and preferred shares.
*These financial results reflect the accounting effect of ceasing to recognize Protección via the equity method and instead consolidating its results as a subsidiary of SURA Asset Management as of November 2022,  along with the subsequent creation of a new insurance subsidiary, Asulado.
**Restated figures in US dollars: Figures taken from the Company´s Statement of Comprehensive Income, restated using the average exchange rate for 2022: COP 4,255.4;  * Figures taken from the Statement of Financial Position based on the exchange rate corresponding to year-end 2022: COP 4,810.2.