Multilateral agencies adjusted their forecasts and although the regional economy is set to expand, it will be at a more moderate pace than last year and this will have an impact on the region´s job markets.

 Experts analyze key projections.
By Valora Analitik for Grupo SURA*
The International Monetary Fund (IMF), the World Bank (WB) and the Economic Commission for Latin America and the Caribbean (ECLAC) have recently revised their economic projections for the world as well as  for the region, in view of the effects in this part of the world of aspects such as the war in Ukraine, strong inflationary pressures, historic interest rate hikes in the United States, Asia and Europe, as well as disruptions with global supply chains, among others.
In its most recent report, the IMF estimates that the gross domestic product of Latin America and the Caribbean shall end up this year with a growth of 3%, when last April it forecast 2.5%, this in response to the robust economic dynamics in the first half of 2022.
"The reopening of contact-intensive sectors - especially hospitality and travel - the activation of pandemic-suppressed demand, and the still-favorable external financial conditions fueled a sound growth during the first half of the year, allowing the service sector's recovery to match that of manufacturing thereby allowing the employment rates to return to pre-pandemic levels," stated the IMF  in its report.
For its part, ECLAC forecasts a 2.7% growth for the region in its latest report for August , this compared to its previous report in which it projected a 1.8% growth. Conversely, the World Bank forecasts that the Colombian economy shall end the year with a GDP of 5.4%.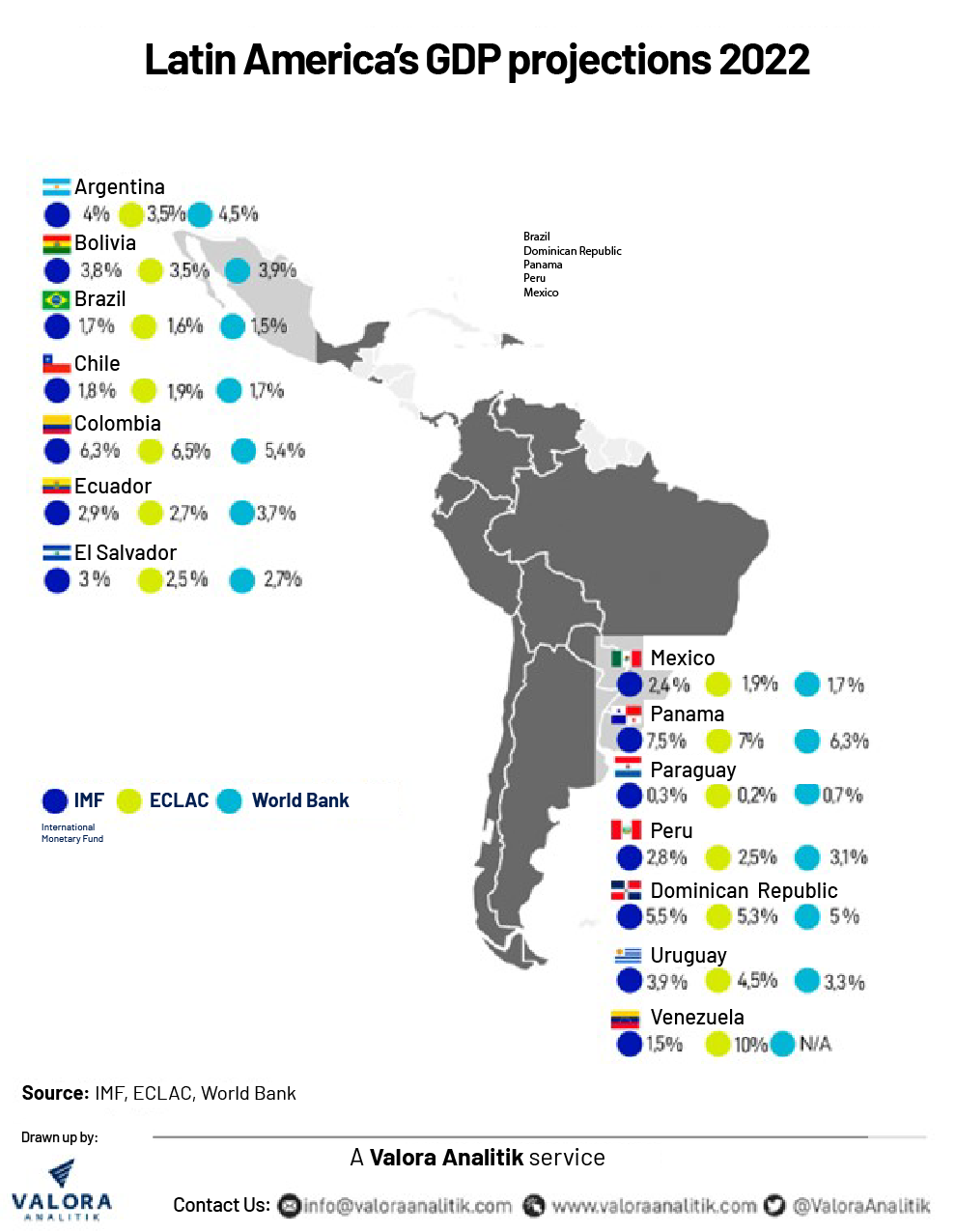 "The prices of the main exports from Latin America and the Caribbean will be substantially higher in 2022, but the benefits for growth will be limited by a sluggish response with the production of certain commodities and higher input costs, including energy and fertilizers," the WB noted.
Juan Pablo Espinosa, Director of Economic Research at Bancolombia, explained that, in the case of Latin America, "a common theme with these revisions has to do with the higher prices of raw materials that have occurred in 2022, this as a result of the conflict between Russia and Ukraine, and the increased demand for raw materials.
According to Espinosa, this partly offsets the downward pressure on economic activity and has a transitory stimulus effect on growth, taking into account the current situation of higher inflation and high interest rates.
"We believe growth should perform better than other emerging markets as well as Europe because it is less directly exposed to the war in Ukraine and the supply disruptions this has entailed. And as a commodity-exporting region, it benefits from better terms of trade," stated Todd Martinez, Director of Fitch Ratings'  Sovereigns Group in Latin America.
Regarding growth prospects on an individual country basis, the IMF revised its forecast for the Colombian economy from 5.8% as projected in April to 6.3% at year-end 2022.  Meanwhile, ECLAC corrected its projection upwards, from 4.8% to 6.5%. The World Bank forecasts that the Colombian economy will end the year with a GDP of 5.4%. 
According to Diego Camacho, Senior International Economist at Credicorp Capital, Colombia's growth dynamics as seen in recent months and, especially, those observed in 2021,shall slow more towards its standard rates. "This year we will surely achieve a growth of more than 6%, a figure that will be very close to what the Colombian Central Bank  forecasts," he stated.
The Chilean economy, meanwhile, is expected to end up  at 1.8% at year-end 2022, after the IMF revised the country´s growth prospects upwards compared to its April report. ECLAC projects that the country's GDP shall end  2022 at 1.9 %, and the WB points to a growth of 1.7 %.
Thus, Martinez states that Fitch Ratings Agency believes that the growth figures for Chile and Colombia are favored by the 'statistical drag' effects of their "very strong economic recoveries at the end of 2021, which gave a favorable starting point to their GDPs which in turn have been able to maintain positive levels of growth for the year as a whole, even if they become stagnant or contract on a quarterly basis".
Fitch Ratings' projection for Chile is "consistent" with its economy entering a technical recession, "while our projection for Colombia assumes a very modest growth in the second and fourth quarters," this rating agency stated.
As for Mexico, the IMF revised its growth projections upwards , considering that by year-end 2022  GDP is set to end up at 2.4%, after the 2%, forecast in its previous report . ECLAC, on the other hand, revised its originally projected 1.7% upwards to 1.9% by year-end. In contrast , the World Bank believes that Mexico 's GDP shall end up at 1.7 % for this year.
"It is a growth that contrasts with the rest of the region and the central element behind this stagnation is a decline in private and public investment ," Camacho indicated . According to Credicorp Capital's senior economist, the political climate takes precedence, since the President of that country, Andrés Manuel López Obrador (AMLO), "has been in government for three years and in the first two he showed himself to be hostile to the private sector and associated it with what he considers to be a corruption problem".
The aforementioned, said Camacho, is the main feature of Mexico's performance and, although fiscally it stands out for its short-term figures, the fact that it does not have large balances in the external sector is "a blot in terms of growth".
How is unemployment performing?
In terms of employment, in its most recent report, the International Labor Organization (ILO) recalled that in 2020 Latin America and the Caribbean was the hardest hit sub-region, with high levels of contagion and mortality due to the Covid-19 pandemic, the steepest drop in GDP (7.5%) and a fall in working hours equivalent to 36 million full-time jobs.
This United Nations agency forecasts that by year-end 2022 the unemployment rate in Latin America and the Caribbean shall stand at 9.3% and expects that, compared to pre-pandemic levels, employment levels and labor force participation rates will remain below  such levels and, in contrast, the unemployment rate shall be above.
"Like many of those who had left the job market in 2020 and re - entered in the course of 2021, the unemployment rate remained high at 10%, but this is expected to drop in 2022 and 2023", he indicated .
"Although economic growth in the subregion resumed in 2021, employment growth remains limited and has been largely driven by the informal job market," the ILO concluded.
Furthermore, job recovery has been based on informal jobs, to which the ILO attributes between 50% and 80% of the recovery seen in 2022, which means that at least one out of every two workers in the region works in informal conditions, according to an ILO technical note published on September 1, which also warns that "women with lower levels of education have not only been the group hardest hit by the pandemic but also the furthest behind in the job recovery phase".
In fact, Daniel Titelman, Director of ECLAC's Economic Development Division, indicated at the end of August that the declining economic activity has slowed the recovery of the job markets, especially for women, whose respective unemployment rate this year is set to reach reach 11.6% this year, up from 9.5% in 2021.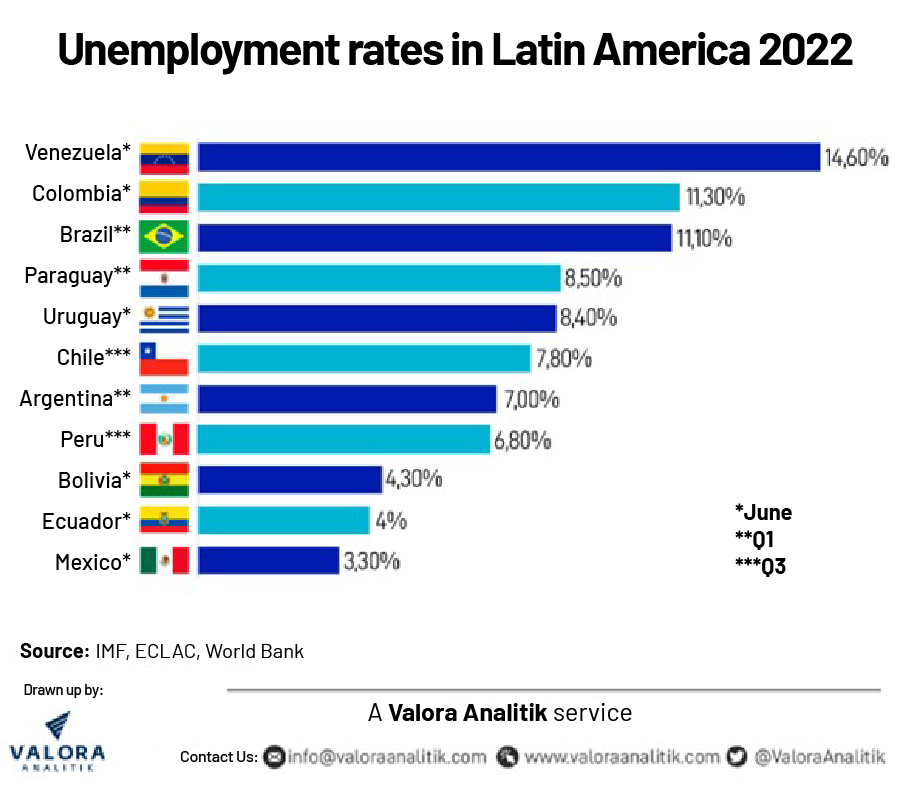 Interest rates in Latin America
Strong inflationary pressure has prompted central banks to raise interest rates, and the Latin American and Caribbean monetary authorities have not been immune to this response.
The IMF explained that cost of living pressures are likely to remain high for some time throughout the region, with inflation forecasts ranging between 12.1% and 8.7% for 2022 and 2023, respectively, this representing the highest rates in the last 25 years.
"That is to say, by the end of this year, inflation is expected to reach the upper limit of central banks' target ranges by about 400 basis points, on average, in the five major Latin American economies (Brazil, Chile, Colombia, Mexico and Peru), and to remain outside the ranges for part of next year," said the IMF.
According to this agency , should  there be any further currency weakening or increased pressure on wages, in addition to the indexation mechanisms present in some countries , "this could well create new inflationary pressures ".
In the case of Colombia, according to the Monthly Survey of Economic Expectations for August 2022, published by Colombia´s Central Bank , analysts on average expect inflation in Colombia to reach 10.02% by the end of 2022, showing a rebound from the forecast of 9.32%  in the survey for July. In view of this, the survey shows that interest rates in Colombia would on average end up at 10,14 % at year-end 2022, compared to a benchmark rate at August 1st of 9%.
"We believe that, in the case of Colombia, there is room for an additional increase in interest rates, but of a smaller proportion compared to what has been introduced so far, both in terms of the magnitude of the next meeting of Central Bank's Board of Directors and the number of increases. In the end, we are seeing a benchmark rate of between 9.5% and 10%", indicated Juan Pablo Espinosa, Director of Economic Research at Bancolombia. 
On the other hand, Mexico´s Central Bank stated that both the accumulated inflationary pressure as a result of the pandemic and the conflict between Russia and Ukraine are continuing to affect general and core inflation, which in July registered annual rates of 8.15% and 7.65%, respectively, reaching levels that have not been seen in two decades.
Diego Camacho Álvarez, Senior International Economist at Credicorp Capital, explains that in the next two or three months Mexico´s Central Bank may see that there are no signs of inflation easing up, so it shall " surely " approve an additional rate increase. The analyst expects Mexico's interest rate to end up between 9.50% and 9.75% by the end of 2022.
In the case of Chile, in July , the Board of Directors of  its Central Bank agreed to increase the interest rate by 75 basis points to 9.75 %, while Peru´s Central Bank raised rates by 50 basis points to 6.5 %.
"Latin American central banks have been the most proactive in the world in raising rates in the face of inflationary shocks," stated Todd Martinez of Fitch Ratings. According to him, central banks throughout the region have been more aggressive with increasing interest rates, as is the case with Brazil´s Central Bank, and could well reach the end of their monetary tightening cycles sooner.
"But most other central banks in Latin America may have to further tighten their monetary policies in the light of inflation rates rising even higher, as shall be indicated by the minutes of their monetary policy board meetings," concluded the director of Fitch Ratings' Sovereign Goup in Latin America.
 *This article was prepared by the Valora Analitik staff for Grupo SURA. Its content is of a purely journalistic nature and does not compromise any specific positions taken or recommendations made by our Organization.