As part of its Q3 earnings report this year, the Company announced that it had been ranked in sixth place out of a total of 533 companies evaluated from the aforementioned sector.
This assessment showed outstanding results on the part of the Company in areas such as Risk Management, Business Ethics, Environmental and Social Reporting, Climate Strategy, Attracting and Retaining Human Talent as well as Corporate Citizenship.
This reflects the levels of performance on the part of Grupo SURA and its subsidiaries Suramericana and SURA Asset Management, in different areas together with their own subsidiaries present in 10 Latin American countries.
This external assessment allowed us to identify the lessons learned as well as the challenges posed in our role as investment manager as we move forwards towards our strategic objective of sustainable profitability.
Grupo SURA received the results of this Corporate Sustainability Assessment (CSA) from the ratings firm S&P Global. This is a pre-assessment that serves as a basis for including the Company in the Dow Jones Sustainability Global Index (DJSI), to be published at the end of the year, and in which Grupo SURA has participated consecutively since 2011.
The Company obtained 76 points out of total of 100 in the overall individual rating, which to date is higher than 99% of all those companies from the Diverse Financial Services and Capital Markets industry that were evaluated. This was the result of weighing the Company´s good practices in the following three dimensions: Governance and Economic (G&E), Social (S) and Environmental (E)
"The results of this assessment has allowed us to identify the opportunities and lessons learned as we move forwards towards our strategic objective of sustainable profitability this by means of a well-balanced management of our financial, social, human and environmental capital. It also reflects the efforts made by the subsidiaries of both Suramericana and SURA Asset Management to incorporate best practices that, at the end of the day, allow us to build trust among the different stakeholders with whom we interact," stated Gonzalo Pérez, CEO of Grupo SURA.
This S&P assessment made special mention of how international best practices have been implemented in areas such as Risk and Crisis Management, Business Ethics, Environmental and Social Reporting, Climate Strategy, Attracting and Retaining Human Talent, Corporate Citizenship, as well as Human Rights.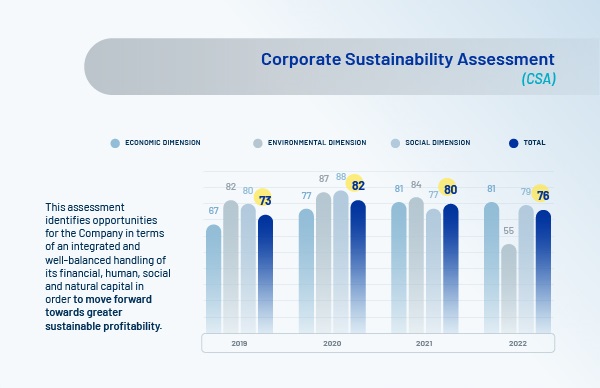 The Governance and Economic dimension
In this aspect, Grupo SURA's consolidated score was 81 (out of 100), ranking third in its sector to date. The Company excelled in several categories:
Firstly, Risk Management in Business Administration, which is evident in the analysis, understanding and handling of the Company´s risk management culture, the governance associated with both this and emerging risks, in particular, the erosion of social fabric and longevity as a demographic change.
In fact, during the last year Grupo SURA developed capabilities to evaluate its investment portfolio with a more systemic vision, and in this way make available the tools required to manage and anticipate environmental risk in its risk correlation analyses.
The Company also stood out in the Business Ethics category, which demonstrates its responsible corporate conduct and a coherent and comprehensive handling of the SURA lines of business, which in turn has had a favorable impact on society.
For this purpose, Grupo SURA has put into place an active and dynamic Ethics and Corporate Governance System that serves as an enabling tool for the Company's principles and strategy, while also promoting best practices and appropriate decision-making bodies so as to drive the sustainable management of the SURA Business Group's companies.
As for the Governance and Economic Dimension, Grupo SURA's main challenge lies in two specific aspects of corporate governance, that is to say the seniority as well as the diversity of its Board of Directors. This was due to the recent movements in this governing body in light of the change in the Company's shareholder structure. However, the measures taken during this period are proof of Grupo SURA's commitment to applying all those principles, rules and governing bodies that make up its corporate governance.
Social Dimension
Here, Grupo SURA obtained a score of 79 out of a total of 100 points. Specifically, its ability to attract and retain human talent was a favorable factor in this assessment, which was supported by efforts such as protecting jobs, creating opportunities for young people between the ages of 20 and 30, as well as providing first job training. In fact, in just the last year, out of a total of 5,279 people that were hired by our SURA companies to fill various vacancies, 2,215 of these (or 42%) were young people.
Furthermore, the companies belonging to the SURA Business Group have directed their social investment efforts towards the developing educational, civic and cultural capabilities. This has allowed us in the last year to positively engage with close to 800 thousand people and more than 3 thousand organizations throughout the region, through nearly 400 initiatives .
"Since our inception, we, at SURA, have assumed a genuine and responsible commitment to building collective solutions to the challenges we face as a society. We constantly seek to strengthen human and institutional networks to build trust and work together towards common goals," added María Mercedes Barrera, Head of Corporate Citizenship for Grupo SURA and Executive Director of the SURA Foundation in Colombia.
Finally, with regard to Human Rights, Grupo SURA shall continue to extend its performance as well as that of its subsidiaries, in order to encourage the adoption of mitigation and remediation measures, this in order to create social capital. In this aspect, we have carried out activities such as identifying vulnerable sectors; handling and closing gaps; as well as defining a corporate position in terms of protecting, respecting and remediating human rights.
Environmental dimension
In this regard, the Company obtained a score of 55 out of a total of100, placing it above 93% of the companies evaluated from our sector. Grupo SURA was rated with the best possible score in terms of environmental reporting while achieving a positive result with its climate strategy. This reflected the process we developed during this past year for (i) identifying and defining the appropriate governance structure for these issues; (ii) implementing an appropriate risk management framework; (iii) designing a structured strategy; and (iv) defining priority metrics for evaluating future trends.
Furthermore, Grupo SURA and its subsidiaries have put into place a Sustainable Investment Framework Policy that sets out parameters for incorporating environmental, social and governance (ESG) issues in their respective investment processes Here, it is worth highlighting the 36% annual increase in thematic investments corresponding to the portfolios held by Suramericana and its subsidiaries in 2021.
The Company's greatest challenge in this dimension is to continue moving ahead with defining a path forward to reach carbon neutrality, based on measuring our financed footprint (this currently underway), as well as implementing underwriting and investment restriction policies relating to coal, oil and non-conventional gas.
 "We believe that Grupo SURA's results are not only financial, but are the result of a well-balanced handling of other capitals such as its human, social and natural capital. It is through this approach that we can achieve sustainability by permanently cultivating long-term relationships with all our stakeholders in order to advance with creating economic value, while helping to build a more harmonious level of development for society", concluded Gonzalo Pérez.