On July 1st, the Company's shareholders received the second of the four installments of the ordinary dividend payment, at a rate of COP 145.75 for each ordinary and preferred share, as approved by the General Assembly of Shareholders at its Ordinary Annual Meeting held on March 27th. As well, the extraordinary dividend was payed during this date.
The other two installments are scheduled to be paid on October 1st 2020 and January 4th 2021.
It should be noted that the General Assembly of Shareholders approved a total distribution of COP 368,974 million (approximately USD 92.2 million based on the exchange rate applicable on March 27th) to be taken from Grupo SURA's individual net income to pay an ordinary dividend of COP 583 and an extraordinary dividend of COP 51 for each ordinary and preferred share, respectively.
This corresponds to a total increase of 15.3% compared to the dividend paid out in 2019 and this shall be paid out to almost 12 thousand shareholders, including more than 500 international funds.
The graph below shows the Company's dividend performance over the last few years:
Ordinary dividend performance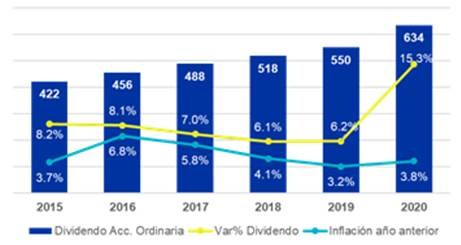 Ordinary Dividend            % change         CPI for previous year
It is worth noting that 29.1% of the Company's total share capital, at year-end 2019, were in the hands of pension funds, which handle the retirement savings of more than 16.4 million Colombians.
Should you have any queries regarding these dividend payments, please write to the following email address accionistas@gruposura.com.co or if you are in Colombia please contact us by telephone: 4-3197037, 4447231, 4042452 or the toll-free number 01-8000-954242.