The Companies that make up the SURA Business Group have taken measures to take care of their employees, expand their capabilities and provide assistance to their clients throughout Latin America while this situation exists.
The SURA Foundation shall provide a total of COP 5 billion (USD 1.25 million) for providing high-priority medical supplies to non-profit hospitals in Colombia.
Grupo SURA's General Assembly of Shareholders also gave its approval this Friday for a total dividend payment of COP 634 for the Company's ordinary and preferred shares.
Gonzalo Alberto Pérez shall be taking over as Chief Executive Officer of Grupo SURA as of April 1st The Board of Directors appointed for the period 2020 to 2022 has two new independent members.

Preventive isolation and teleworking for more than 90% of SURA's 30 thousand employees throughout Latin America; flexible conditions for insurance policy subscriptions and the handling of claims; advance pension payments and on-line transactional channels; expanding the capacity of the health service offered (Colombia) and helping to strengthen hospital infrastructure and enhance overall health care. These are just some of the measures that have been taken by Grupo SURA, its subsidiaries Suramericana and SURA Asset Management, as well as the SURA Foundation to help contain and overcome the COVID-19 pandemic.

Similarly, and as part of the Annual Ordinary Meeting that all our shareholders, who delegated their participation, were able to follow live by video streaming  this Friday, the Company's Chief Executive Officer, David Bojanini, announced that the SURA Foundation shall provide personal protection supplies for medical staff, these being a priority for hospitals in Colombia to be able to provide their emergency services, for which it allocated COP 5 billion (USD 1.25 million). This effectively supplemented the amount that Seguros SURA has injected in expanding the ICU capacities of local hospitals.

"We have carefully monitored and evaluated the current situation and taken the corresponding measures so that we are able to take good care of the people affected and ensure the continuity of our operations and services, by prioritizing our on-line and remote channels. We, in the private sector,  must comply with the preventive measures taken by our different governments, stand in solidarity with those that have been most affected, strive to maintain jobs and look on this situation as a learning opportunity," stated David Bojanini, who is retiring as Grupo SURA's Chief Executive Officer as of March 31st.

He is succeeded by Gonzalo Alberto Pérez, who has served as Chief Executive Officer of one of the Group's core subsidiaries, Suramericana, specializing in insurance and trend and risk management, who at the end of the meeting thanked the Board of Directors for having appointed him to this position  and expressed his gratitude to David Bojanini, his family and the teams of staff that have accompanied him during the 38 years he has worked for the Organization.

"I have taken up this  great commitment, convinced that, with a pool of human talent capable of  transforming and undergoing transformation themselves, of working amid uncertainty, together with our firmly committed Companies and our ability to properly "read" our business environment, we shall continue to tread a path towards greater sustainable growth, hand in hand with all those private individuals and companies in Latin America that have placed their trust in SURA. For this purpose, we are upholding a clearly-defined strategy aimed at making further headway with our different lines of business, while creating greater added value for our clients and strengthening our financial position," stated Gonzalo Pérez, Grupo SURA's new Chief Executive Officer.
Approved dividends rose by 15.3%.
On the other hand, the General Assembly of Shareholders approved a total distribution of COP 368,974 million (approximately USD 92.2 million at today's exchange rate) to be taken from Grupo SURA's individual net income to pay an ordinary dividend of COP 583 and an extraordinary dividend of COP 51 for each ordinary and preferred share, respectively.
This corresponds to a total increase of 15.3% compared to the dividend paid in 2019 and this shall be paid out to almost 12 thousand shareholders, including more than 500 international funds. It is worth noting that 29.1% of the Company's total share capital, at year-end 2019, were in the hands of pension funds, which handle the retirement savings of more than 16.4 million Colombians.
The ordinary dividend is to be paid out in four equal installments of COP 145.75 on April 20th, July 1st and October 1st 2020, as well as on January 4th 2021; the extraordinary dividend would be paid out in a single lump sum on July 1st, 2020. These approved dividends show a considerable increase compared to the amounts paid out over the last few years, as shown below:
Ordinary dividend performance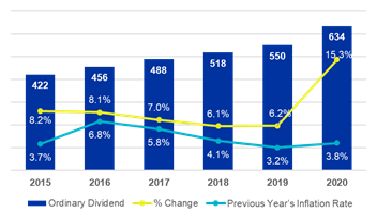 New members of the Board of Directors
The General Assembly of Shareholders also elected a new Board of Directors for the period 2020-2022, which this year included two new members, both of whom enjoy an independent status, who shall bring to bear their own specialized skills and knowledge to this corporate governance body. These new members are: Lina Maria Echeverri Perez, holding a PhD in Economics who has amassed extensive experience in corporate responsibility and sustainability strategies; and Maria Carolina Uribe Arango who specializes in business law and is an expert in capital markets. She is also a founding partner of the law firm, Uribe Henao Abogados.
They shall succeed the former members of the Board, Luis Fernando Alarcón Mantilla and Carlos Antonio Espinosa Soto, whom the General Assembly of Shareholders thanked for their strategic contributions over the last few years. The Board of Directors shall appoint its own Chairperson and Vice-Chairperson as well as the members of the Board's support committees at its upcoming meeting.
 For more details on the Company's performance last year, please refer to
Grupo Sura's Annual Report - 2019