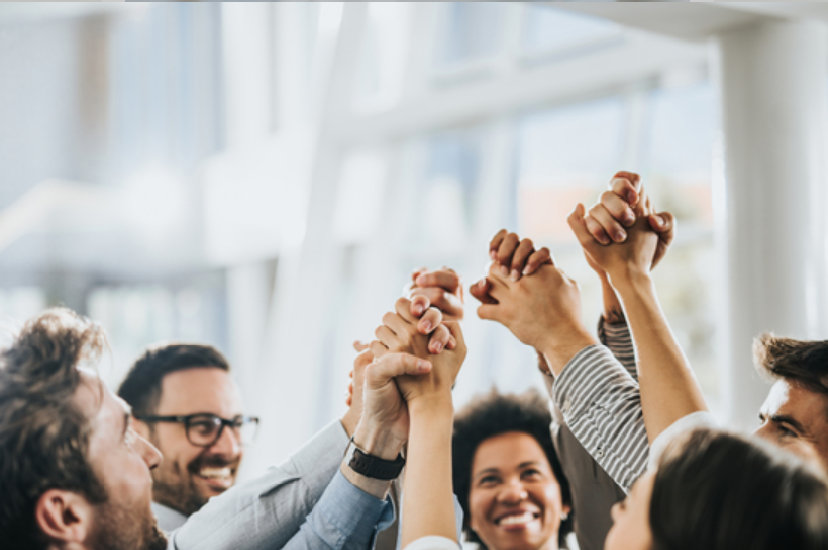 As an organization, we are defined by our higher purpose of creating greater well-being and ensuring sustainable development for people, organizations and society alike. Grupo SURA´s commitment to Human Rights goes throughout our value chain
Our commitment to respect Human Rights throughout our value chain implies complying with the guidelines of the Universal Declaration of Human Rights, the United Nations Guiding Principles on Business and Human Rights (and its corresponding Protect, Respect and Remedy framework) and those established in the Declaration of Fundamental Principles and Rights at Work of the International Labor Organization (ILO). 
We seek solid relationships, with all our stakeholders, based on respect and mutual recognition, generating trust, and value, for all parties involved, through our operation. Therefore, we actively promote the respect of fundamental rights and avoid impacts, directly and indirectly caused.
Today, companies must act with due diligence to prevent human rights violations and ensure their respect within the framework of their operations. Thats why, we must periodically identify and assess the actual, potential and perceived negative consequences on human rights in which we may be involved, either through our own activities or as a result of our business relationships and investments, in order to manage and integrate them into our management systems.
Thus, with our work and the participation of the different areas, we can reiterate our responsibility with the incorporation of best practices, so that these are incorporated into all processes, generating impact and wellbeing.
HUMAN RIGHTS MANAGEMENT CYCLE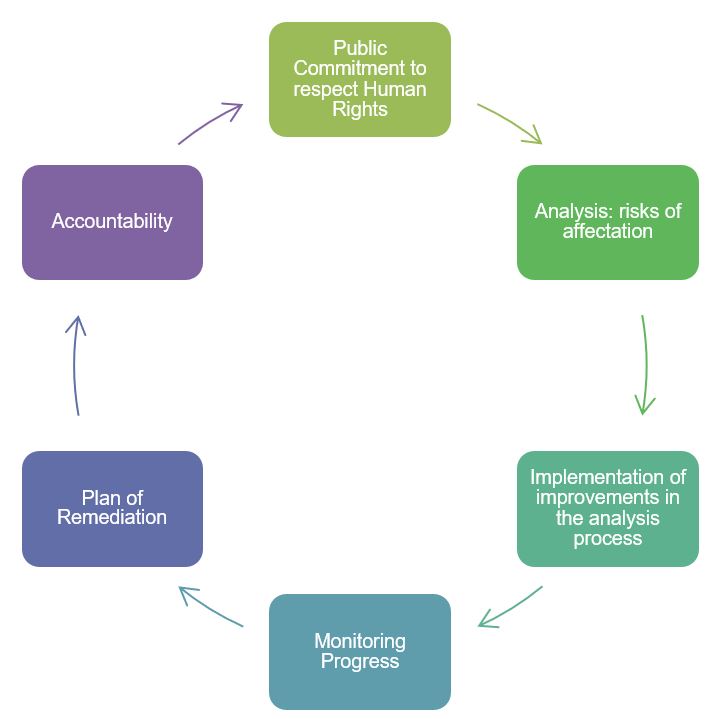 IDENTIFIED THREATS
Risk of being exposed to unsafe conditions that can endanger the integrity and even life.
Discriminatory risk basen on gender, hiring processes and business relationships.
Misuse of confidentiality policies.
Risk of not having an occupational health and safety system for employees and suppliers.
Risk and subject employees to forced labor.
Risk for issues related to inequality and equal opportunities.
EVALUATION CRITERIA
Based on the methodology of the Ideas for Peace Foundation, each criterion has a trichotomous rating scale (0 – 0.5 – 1) where 0 is the lowest value on the scale and 1 is the highest. This makes it possible to assess and visualize the severity for each severity analysis variable.
Each variable of the severity concept has a number of established criteria.
In the scale variable there are a total of five (5), scope four (4), and irremediability three (3). According to the total score obtained in each one, a percentage is obtained that allows assessing the level of severity for each variable.
Number of Criteria for each severity concept variable
| | |
| --- | --- |
| Variable | Criteria |
| Scale | 5 |
| Scope | 4 |
| Irremediability | 3 |
Source: Prepared by FIP
Once the percentage for each of the variables has been obtained, an average percentage is calculated to visualize the total assessment of the severity of the human rights impact analyzed in accordance with the UNGP guidelines. Based on the results obtained, a heat map is drawn up that allows for quick visual identification of the most serious impacts.
REMEDIATION PLAN
Once the assessment has been carried out on Human Rights risks in each of the companies, if necessary, remediation plans will be defined, and/or controls to be implemented to strengthen the companies actions in the event of a situation that may give rise to breaches of human rights among the assessed interest groups.
Some of this remediation plan defined were:
Audits/reports/performance agreements/differential payment plans
Financial statement/health superintendence reports/thoughts about impact on public dynamics/development of practices
Health the superintendence follow up on denials/report of denials to the constitutional court/actions for protection of fundamental rights /people's Defendant report/Economic regulation
Legal compliance
Audits to customer service processes
Regular audits to access profiles/contract termination due to bad practices and unauthorized access to information/education about the use of information/information security policy
Ethics line/claims and complaints system/users' Association
Audits/reports/performance agreements/claims and complaints
Among others.
STAKEHOLDERS ANALYZED
Community
Employees
Users/clients
National government, unions, consultants
Suppliers
Contractors