How Latin America's economic outlook has changed due to the pandemic
The latest forecasts have pointed to a slowdown throughout the region due to the spread of COVID-19.
 By Valora Analitik for Grupo SURA*
The economic world of 2020 that most multilateral organizations imagined at the end of last year and early this year has changed considerably. The spread of COVID-19 has led to declines in the gross domestic product (GDP) estimates, which have only become more accentuated in the middle of this year.
Latin America is one of the regions most affected by the health crisis produced by the current pandemic. At the same time, we are more vulnerable to the associated economic impacts given the fact that we are after all developing economies, and hence our productive structures are highly dependent on commodity trades.
How to achieve a stable economic policy? Do we have to sacrifice our productive lives so as not to endanger the health of our citizens, and what would a recovery look like in 2021? These are the questions that are currently challenging presidents, finance ministers and congressmen alike.
 Before the pandemic
Last year the world became more optimistic after seeing the United States and China reach an agreement to end the Trade War that began in 2018.  A World Bank report issued in June 2019 stated that Latin America and the Caribbean would grow by 2.5% for 2020, thanks to, among other things, a rise in fixed investments, higher oil prices, since misunderstandings regarding an oil war would be overcome, but especially because of a more enhanced environment for international investors.
On January 16 of this year the world saw how after a trade war lasting almost two years between the United States and China, the outlook began to improve for both developed and emerging economies. This lasted just 55 days, since on March 11 the World Health Organization (WHO) declared COVID-19 a pandemic, this having originated in Wuhan, China.
From that moment on, economic outlooks changed radically. Borders were closed, lockdowns began to take their toll on different productive sectors and lower consumption, as well as shrinking private investment and remittances, among other factors, resulted in several changes to the estimated impact of the pandemic on the economic growth of individual countries.
Changes to economic forecasts
The latest estimates show declines with historical Gross Domestic Product (GDP) rates. For example, the International Monetary Fund (IMF) predicted in its July report a 9.4% drop for Latin America's economy, this corresponding to nine percentage points less than that forecast back in January.
GDP projections by IMF countries for 2020 and 2021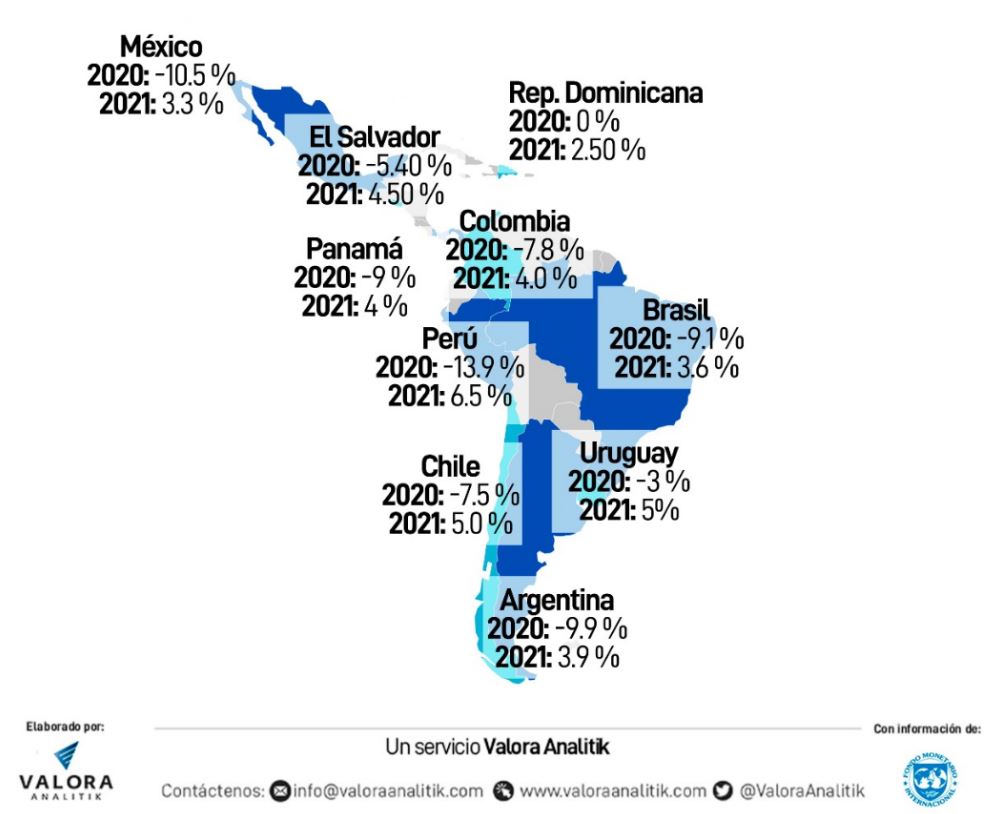 The Economic Commission for Latin America and the Caribbean (ECLAC) also made special mention of these projected declines in the light of what could well happen in our part of the world. On May 28, Alicia Bárcena, the Organization's Executive Secretary, stated that Latin America is facing the greatest economic slowdown since 1900 due to the coronavirus.
ECLAC projects a decline of 9.1% (in its July 15 update), compared to its year-end forecasts for 2019 that placed regional growth at 1.3%. Consequently, by year-end 2020, similar values to those of 2010 are projected in terms of GDP per capita, which means a reversal in the population's well-being.
Growth projections per country for 2020: ECLAC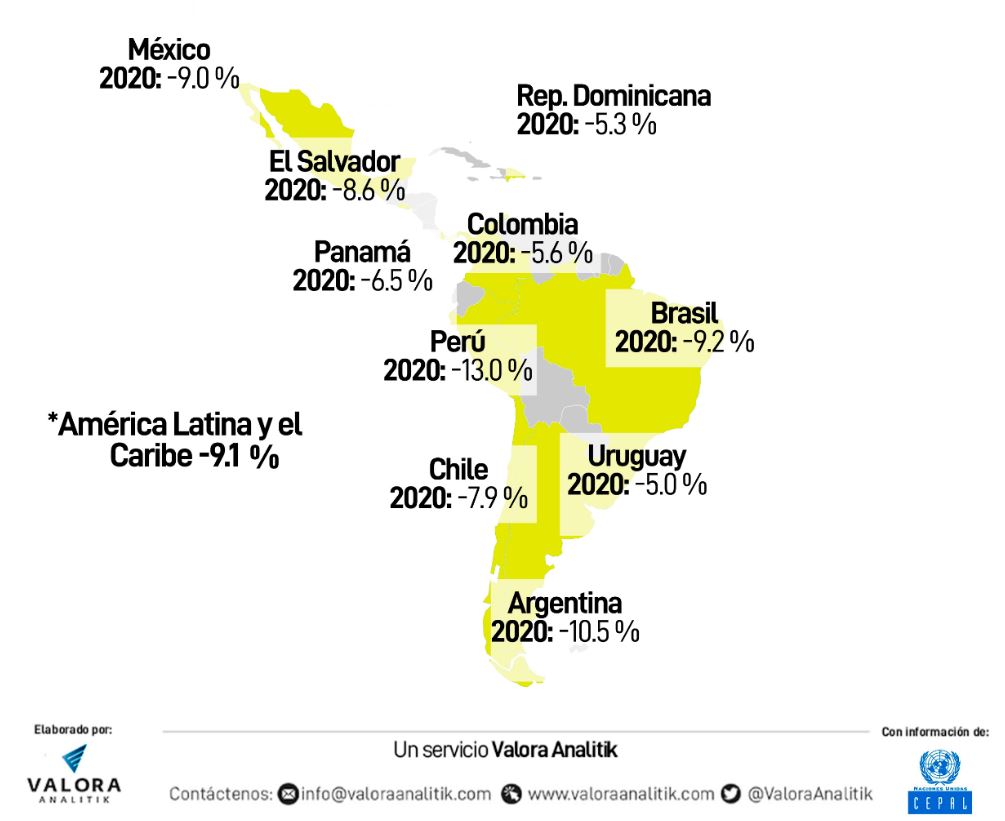 With regard to the regional poverty rate, this agency estimates this to rise as high at 37.3% this year, so the number of people living in poverty shall increase from 185.5 million in 2019 to 230.9 million this year.
With regard to the labor market, ECLAC projects that the number of unemployed shall also increase by 18 million compared to last year to reach a total of 44.1 million throughout the region.
Furthermore, Latin America's public debt is expected to reach 69.7% of GDP by 2020, compared to 59.5% in 2019.
"National efforts must be supported by international cooperation to expand policy space through increased financing under favorable conditions and debt relief.  Likewise, making progress on equality is crucial" concluded Barcena upon presenting ECLAC's latest report on July 15.
On the other hand, Focus Economics indicated that Argentina and Peru shall be the economies that will suffer the most by the end of the year: with declines of 11% and 10.5%, respectively. Colombia would be the country recording the third smallest drop in Latin America, with a 5.2% decline.
Raúl Ávila, professor of Economics at the Universidad Nacional de Colombia, explains that the gap between the different forecasts is due to several factors, one of these being how economies reach the most critical point of the pandemic.
"But you also have to look at what flexible quarantine periods are in place in each country, and how that accordion moves to give certain industries a break. Another fundamental point has to do with the social support provided to the most vulnerable population," Avila went on to state.
What the analyst refers to here is the direct financial assistance provided to families and citizens that have been most affected by the generalized loss of income. This is a vital point for ECLA, since a structural basic income would curb the possible rise in inequality and stem the increase in poverty throughout the region.
A shift in trade policy

The reason the change has been so abrupt is that the spread of the coronavirus affected the region's key trading partners, that is to say, the United States, China and Europe. According to the data compiled by ECLAC, out of a total of USD 1.07 trillion that was exported by the region in 2019, about 24% went to China.
"But to this we must add a fundamental issue and that is the declining value of oil, which is an essential commodity for several of the region's economies. This pandemic showed that, no matter what, we have to think about changing our export matrices and our international trade models so as to be able to mitigate the overall blow," said Mauricio López, Head of Applied Macroeconomics at the Universidad de Antioquia, in Colombia.
Hence, ECLAC projections at the end of 2020 indicate that exports shall decline by around 10.7% in value, and 2.5% in volume. This includes shipments to China falling the most, by around 21.7%.
And the cost of living?
One figure that is not expected to change significantly is inflation. According to the latest figures issued by the region's Central Banks the cost of living is expected to remain within the same range as for the beginning of the year.
Argentina, for example, would end up with a drop of 40%, this being one of the highest in the region, but mainly because of the carryover of last year's poor economic performance. Uruguay would end up at around 8%. While Paraguay, Mexico, Brazil, Colombia and Chile would fluctuate between 2% and 3%.
Estimated year-end inflation rates for 2020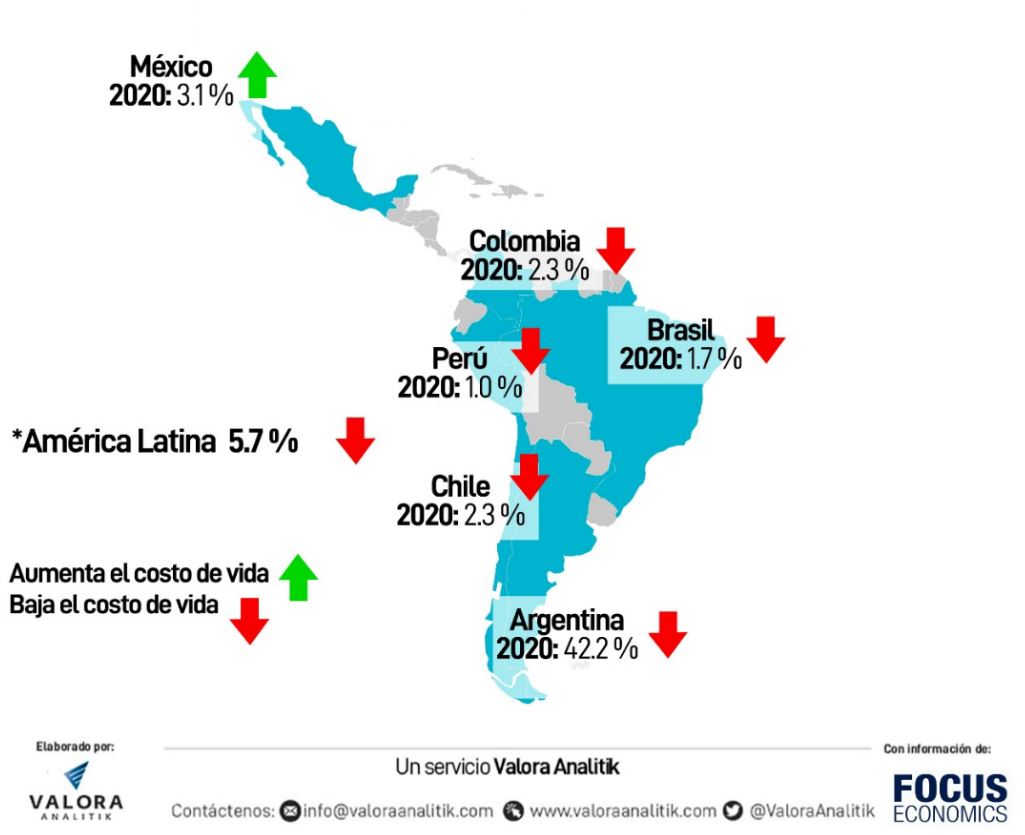 "We don't see the economic crisis having any further adverse effects on basic goods and services because, among other things, people are taking good care of how they spend and are only investing in what is strictly necessary," concluded Alejandro Useche, member of the American Economic Association and professor at the Universidad del Rosario.
However, should the outlook become brighter, and if potential outbreaks of COVID-19 in Latin America can be effectively controlled, 2021 would be a more auspicious year but not one of total recovery. The Organization for Economic Co-operation and Development (OECD) estimates that, in the event of circumstances becoming more favorable, the region's GDP could recover at a rate of 3.7%, which is the same as that projected by ECLAC.
This scenario depends mainly on the capacity of each Latin American country to control possible outbreaks as well as the speed at which the region's trading partners are likely to recover, these being the United States, China and the European Union.
"But we must also consider consumer confidence patterns during the first few months of 2021. The extent to which people are motivated to spend and borrow is likely to be a cornerstone for next year's performance," concluded Ávila.
*This article was prepared by the Valora Analitik staff for Grupo SURA. Its content is of a purely journalistic nature and does not compromise any specific positions taken or recommendations made by our Organization.